Assessment Systems
| | | | |
| --- | --- | --- | --- |
| | | | Motivators Assessment |


BUSINESS MOTIVATORS

Motivators are a collection of learned attitudes and beliefs which provide an individual with information regarding which motivators are most important to the person at the present time.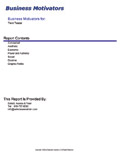 Behavior Motivators is an online assessment designed to meet a variety of needs and applications necessary for increased personal productivity and effectiveness, such as:
– Identifying Employee Motivators
– Decision Making
– Management
– Goal Setting
– Team Building
– Career Satisfaction

Candidates are able to log-in to the testing site from virtually anywhere around the world. You can manage the assessment database, evaluate candidates, and print reports using any Internet connection.

The assessment can be completed in approximately 10 to 15 minutes and is often used with the Proception 2 Profiling Series assessment (DISC). The report provides 9 pages of information, as well as a graphic profile.

Motivators
Like behaviors, motivators can be viewed in degrees of intensity. The Business Motivators report shows the individual's personal motivators on a 100-point scale. The intensity of each motivator is determined by the importance placed on it by our personal priorities.

Motivators can be flexible and will often change throughout an individual's career and life. As a person's situation changes, the priorities of their motivators also tend to change.

Since motivators are judgment free, they are suggestive of what an individuals holds to be important. They are what give a sense of satisfaction and accomplishment. Motivators add depth and dimension to behaviors by providing insight into why a person does what he/she does. Psychologists often refer to the motivators as the initiators of behavior.


MEASURES

Key motivators providing insights into why we do what we do: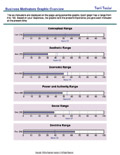 Conceptual
Objective and critical; a desire to learn for knowledge's sake

Aesthetic
Visual awareness; things to have form, function and symmetry

Economic
Desire for economic and material gain; strive for positive results and profits

Social
Genuine concern for the welfare of others; will help those seen as less fortunate

Power and Authority
Enjoy being in positions of power; energized by competition

Business Doctrine
Centered on tradition and customs; seeks to conduct their lives and business activities within a system

Business Motivators report sample
Business Motivators Assessment System brochure


Please contact us for more information


The individual will better....
– Understand and appreciate relationships
– Learn how motivators impact work performance
– Understand causes of conflict
– Identify personal motivators and interests


Business Motivators is....
– Quick to complete - approximately 10-15 minutes
– Validated
– Built with powerful database tools for reporting
– Designed to produce profile reports on site
– Available online; internet-based


More Information:
Business Motivators report sample
Business Motivators brochure


Available Formats:
– Online
– Paper and Pencil Questionnaire - answers input online


Available Languages:
English
Mexican Spanish
German
Portuguese
Serbian
Mandarian


Business Motivators report sample
Business Motivators brochure


Please contact us for more information


Return to Proception2 Profiling Series System main page


Return to Pre-employment Testing & Assessment Systems main page.





Saturday, December 9, 2023